Medichecks UK Are The Organisation I Use For My Home Testosterone Tests
Read On To Find Out Why!
Why Get Your Testosterone Levels Checked
To be honest, it is near impossible to naturally attain testosterone levels that are too high.
As it is highly unlikely that anyone has been advised to test their levels for an excess of testosterone.
The two main reasons to get levels tested are as follows:
You suspect you have low levels of testosterone.
You've been actively working to optimise levels and want to track your progress (why I still take tests).
If anyone is suggesting that your T levels are too high and to buy a test for this.
I'd be very cautious and drill down further as to what they believe the potential health issues are!
You may want to look at getting a home testosterone test, as supposed to going through a national health service.
The main reason being is going through a national health service can be very time-consuming.
In some cases that may not even result in actually getting approval for testosterone tests to be carried out.
I can think of multiple occasions where clients have come to me, saying their doctor didn't believe low T was the cause of their symptoms. 
We then arrange for tests to be done & it turns out the person's T levels are extremely low!
So with a service like Medichecks UK, you're guaranteed a test, the turn around is quick (under a week).
Then perhaps most importantly you can proactively manage your own health.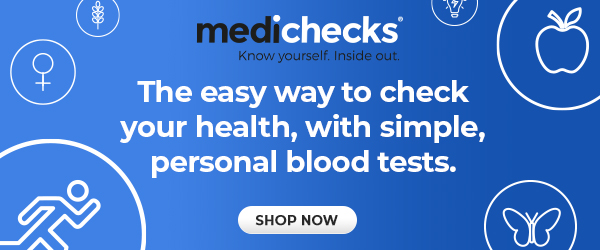 What Are The Signs I May Have Low T Levels
There are several signs that you may have low testosterone levels including:
Loss/ failing to gain muscle mass
Retaining/ failing to lose body fat
Lack Of Motivation
Lack Of Energy
Sexual Performance Issues
All of the above could be signs that you have low T, I suggest you check out the below article for more info on some of the key signs of low T
About Medichecks UK
The Medichecks UK mission is as follows "Our mission is to make state-of-the-art laboratory blood testing available to everyone.
We've harnessed the expertise of the UK's top pathology laboratories.
With the latest consumer technology to make 21st Century blood testing a simple, easy-to-use process available for everybody."
Medichecks UK have created over 900 blood, saliva, urine and stool laboratory tests which are available directly to me and you.
With this they provide visual and easy to digest results which come with added commentary from qualified doctors.
So your results are easy to understand and any additional information is coming from a highly qualified source.
They have been selling blood tests over 15 years & sell thousands of tests per year, with testosterone levels being one of the most popular.
They also offer tests from individual markers like vitamin D, to total wellness profiles.
Which is checking for things like heart disease risk, diabetes hormone status and far more.
It's safe to say that you are in good hands with them and they have an excellent customer satisfaction rating from independent sites like Feefo.
You can see tons of extremely positive medichecks reviews on there! 
The Testing Service
All test kits come with a prepaid first class envelope to post your sample to their laboratory.
They will give you specific instructions on how to take your samples and how long after taking your sample you need to post them.
Then once they have received your results from the lab, they get posted on a secure personal dashboard at mymedichecks.com.
As mentioned above; you can see at a glance whether your results are within the normal range or not.
Their doctors will provide notes/ comments on any abnormal results and will advise what your next course of action needs to be.
The service is in depth and they like to make sure you are comfortable using the service.
Making sure that they provide you with results that are as accurate as possible is very important to them.
So they like to make sure that you're able to login to your account before you've purchased your test.
You can then inform them when you've sent your sample, so they know to expect it and can expedite if needed.
They may also request info about your current health & family medical history, this helps them to interpret your results as accurately as possible.
All results are totally confidential and you are able to print copies, should you need to take them to your doctor or a specialist.
If you aren't confident taking blood or aren't able to for whatever reason, they have partner clinics you can attend for your samples to be taken.
You can even arrange for nurses to come to your home and assist take the sample, they like to make sure they have every angle covered.
They also have a pretty quick turn around for all blood tests (2 days for testosterone tests).
Prices
Their price for Testosterone Testing For £29 is at the slightly lower end of the market.
Most organisations on average charge from £29 – £39 per test.
My Rating & Independent Ratings
I personally give them an overall rating of 4.5/ 5 stars, there aren't really any areas of weakness for me in their offering.
If I have to be a bit picky as part of this Medichecks Review, I'd say they almost offer too may tests.
If you aren't sure exactly what you want testing for, this could be very overwhelming.
They counter this by making the site extremely easy to navigate when you do know what you want.
You can call in and speak to their very helpful staff.
They can recommend what tests you should consider based on what information you want to find out/ issues you're potentially having.
Other than that though, for me the pricing and the level of service they provide is at the absolute top end of this market!
Their Feefo Rating
You can also see their Feefo rating all over their site, Feefo is an independent global review company used by many organisations.
The feefo ratings for Medichecks UK is 4.7/5 and that is based on over 1800 verified customer reviews.
Hopefully between my rating/ experience with Medichecks UK and how other people are rating them.
It's clear that they offer a highly professional and effective service.
You can find out more about Medichecks UK for yourself on their Home Page
If you want to find out more about their testosterone testing or want to go ahead and order a test you can do so from here:
Final Thoughts & Future Posts
I hope you have found this overview of Medichecks UK as my recommend UK provider of home testosterone tests useful.
Medichecks UK does only service the UK, so not going to be an option for all my site visitors.
I will be providing overviews of similar services in other geographic locations, starting with Discounted Labs
If you have questions in regard to this Medichecks review or about Medichecks UK.
I suggest you check out the Medichecks Site or drop me a comment below and I'll get back to you.
Please feel free to share this article with article with anyone else who may be interested.
You can also follow me on my social media, where you will see more about other home testosterone test services and updates with offers from Medichecks UK!