Overall Rating

(4.6 / 5)
Product Quality
(4.5 / 5)
Product Range

(4 / 5)
Price

(4 / 5)
Product Availability/ Accessibility

(4.6 / 5)
How Man Cave Grooming Products Came About
Before we go into the four main categories of this Man Cave grooming products review. We're going to take a look at the history and beginnings of man cave grooming products. Man Cave grooming is a British start-up company. All Man Cave products are designed and manufactured in the UK. They view themselves as the "last bastion of men's grooming".
After an intensive two-year product development process. Man Cave grooming launched online with their first products in 2012. They have set out to achieve the following mission. "To bring a fresh and inspiring regime of grooming essentials – developed and formulated as a natural defence for man!"
The Quality Of Man Cace Grooming Products: (5 / 5)
Man Cave Skin Care Ingredients
The Man Cave grooming products are vegan friendly. They never use toxic ingredients and this includes sulfates/ SLS, parabens, petrochemicals, plastic microbeads, synthetic fragrances or artificial colours. The ingredients I just listed are potentially causes of/ are linked to endocrine disruption. This can mean hormone imbalance, lowered testosterone and potentially multiple other health issues. If you aren't familiar how these chemicals can negatively impact health. I suggest you check out the below article.
Free From Toxic Chemicals
As mentioned above. Unlike most skin care brands, the Man Cave grooming products are free from toxic chemicals. This means that they won't lower your testosterone production (the key reason I use Man Cave Grooming Products). This also means you aren't exposed to the multiple potential health issues linked to these toxic chemicals.
The Man Cave Grooming Products Range (4.5 / 5)
Variations & Scents For Different Products
The Man Cave product range is pretty wide, including products for sensitive skin. They have multiple options for a number of the products they provide. The reason I gave them 4.5 as supposed to full marks, is because in comparison to Bull Dog. Which are a direct competitor their variations of product type is a bit smaller. Just like Bull Dog they offer multiple product sets, which are great value for money. The Man Cave grooming products sets make good gifts and help you know which products work well together.
The Man Cave Skin Care Range
Man Cave Grooming provide a broad range of skin care products including the following.
Shower Gels
Moisturiser
Shampoo
Conditioner
Age Defence Serums
Face Scrubs
Face Wash
Face scrub
Face cleanser
Cleansing Water
Body scrub
Anti Pollution Face Serum
Shaving Gel
Beard Wash
Beard Oil
Beard Control
Deodorant/ Anti Perspirant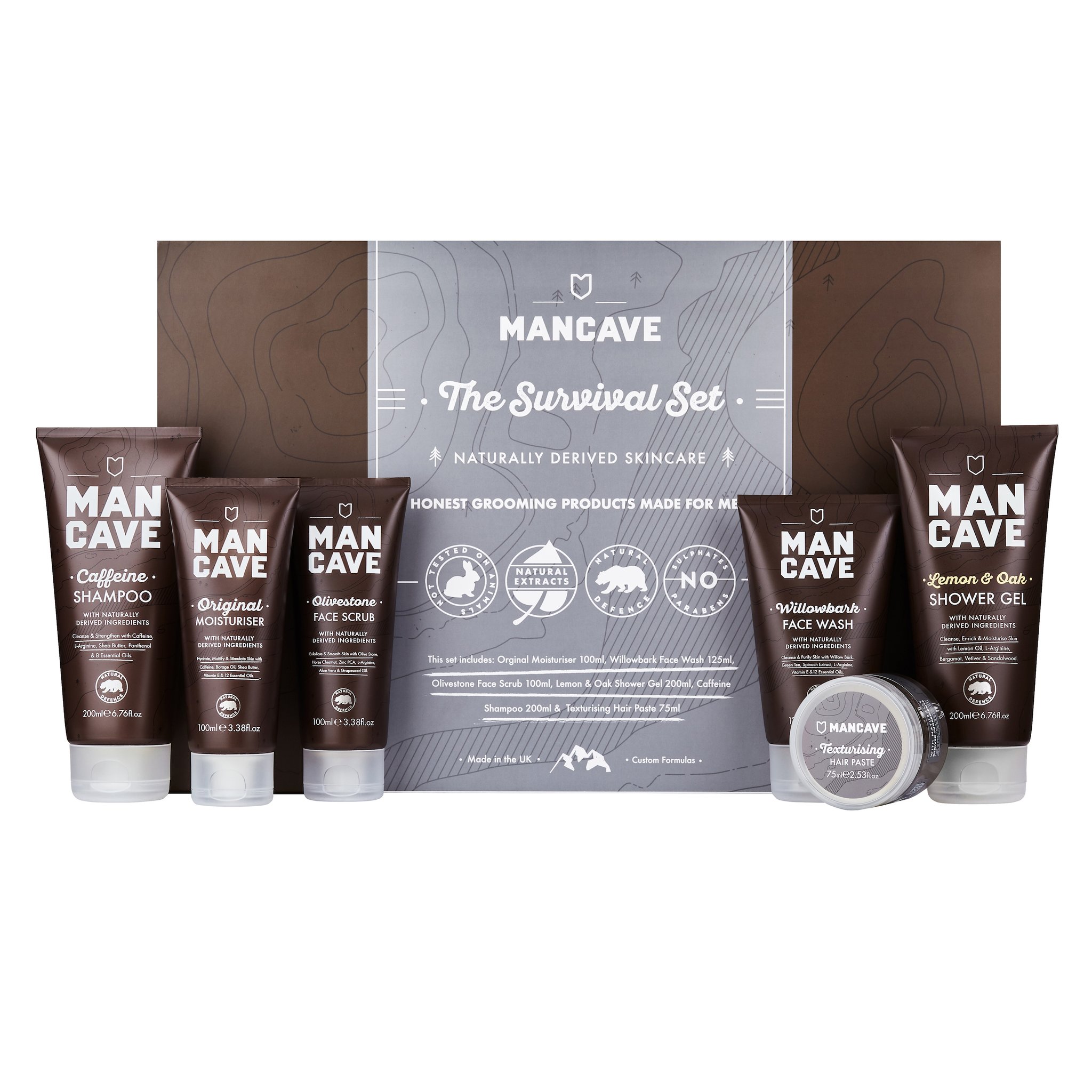 As you can see, the Man Cave products range is pretty wide and they provide most of what you're likely to need as far as skin care is concerned.
Man Cave Grooming Products Price (4 / 5)
The Man Cave products range are a bit more expensive than your average skin care products. When compared with most other organic/ natural skin care brands they are definitely at the lower end of the scale, costs wise. Their products are designed specifically for men. They are suitable for vegetarians & vegans & are made with natural ingredients that don't contain toxic chemicals/ chemicals that lower testosterone.
Considering what they offer as listed above; I feel they represent great value for money. The main reason I haven't given the pricing full marks is. If you're changing from a run-of-the-mill brand that contains toxic chemicals, this is possibly more costly. Your testosterone levels and wider health will definitely thank you for the change though!
Man Cave Grooming Products Availability & Accessibility: (5 / 5)
Locations You Can You Purchase
You can purchase Man Cave products in most territories worldwide this includes.
As mentioned previously, Mankind.com deliver to the majority of countries worldwide & for free!
Where To Purchase
As I've stated above, I believe the best place to buy Man Cave Grooming products is from Mankind.com The price is similar for the individual items to The Bulldog skin care direct website. With Mankind the price works out cheaper as you can take advantage of the free shipping. Especially as from the Man Cave site they don't ship to all global locations. They charge quite a bit for shipping as well! Again you can check out the full Man Cave grooming products range below.
Buy Man Cave Grooming Products From Mankind Here
Purchase Man Cave Grooming Products On Amazon
As I've stated above, I believe Mankind to be the best place to purchase. You can also buy Man cave grooming products on Amazon. It's a good alternative; but is obviously restrictive based on locations.  They definitely sell Man cave grooming products on Amazon UK & US, which you can check out below.
Man Cave Grooming Products On Amazon UK
Man Cave Grooming Products On Amazon US
Final Thoughts On The Man Cave Grooming Products
I hope you have found this overview of The Man Cave Grooming Products useful. I personally use their shower gels, moisturisers, deodorant and facial scrubs. There are plenty more left in the range I intend to try. If increased testosterone is your aim, I advise at least start by replacing your shower gel and moisturiser. As these are things you use daily and you'll begin to see a difference. Obviously if you replace everything, you'll see an even greater difference.
If you have any questions in regard to this article or Man Cave grooming products. Just drop me a comment below and I'll get back to you. Please feel free to share my articles with anyone you think you may find this interesting. You can follow me on my social media sites. I provide plenty of tips on ways to increase testosterone. I also cover other products similar to the Man Cave Grooming Products.