Nourished Review: Their Personalised Vitamins Stack
Cost Per Box: £39.99
Volume: 28 Days Supply
Special Offers: First month for £15 with Discount 
Code: Ttips15
Availability: UK (Plans to expand further)
So What Is Nourished?
So Nourished is the world's first truly customisable and personalised 3D printed vitamin/ supplelment. At present, their personalised vitamins are availabe in the UK & US. They have plans to move in to other global territories in the near future. 
Nourished use a completely revolutionary 3D printing method & patented vegan encapsulation formula, where they combine the seven active ingredients you select out of a potential twenty-eight. The end result is a personalised chewable vitamin stack, that is tailored specifically to your nutritional needs.
Something else I wanted to call out is that you used to have to sign up for a subscription, you can now try your first box free of subscription. My discount code works for this as well. So if you aren't convinced to the stage you want to subscribe, try it commitment free & see what you think!
Nourished 30% Off First 3 Months Of Boxes
As a special offer to kick off the new year. Nourished are offering 30% off the first three months of boxes of their personalised vitamins. This offer is running till Thursday 14.01.21. You just need to use discount code: NEWYEAR30 at checkout to get 30% off your first three boxes of personalised vitamins!
Nourished Vitamins Advent Calendar Launch!
Nourished have launched the first and only Vitamin Advent Calendar in the UK! This is a special addition with very limited availability. I envision that it will sell out extremely quickly, So I suggest that you pre-order now to ensure that you get your calendar secured! The calendar is made up of 4 different Nourished vitamins pre-blends (one for each week of the month), these are:
Inner Defence
High Flyer
Inner Peace
Party Proofed
Then on top of that, you also get a voucher for a personalised box of nourished vitamins, for the month of January for free (Value £89.99). You can preorder your advent calendar from now till November 15th for £49.99. Then you can order from the 15th of November onwards for £59.99. Available while stocks last! Great as a gift to yourself or someone else, you can check it out below. 
The Pre Made Personalised Vitamins Stacks
So Nourished vitamins offer 8 different pre made personalised vitamin stacks, which are as follows: 
The High Flyer Stack
The Inner Beauty Stack
The Plant-based Power Stack
The Inner Defence Stack
The Inner Peace Stack
The Party Proofed Stack
Packed & Stacked
The Prenatal Stack 
These pre made blends offer a number of health benefits such as reducing stress, increased energy levels, immunity boosts. The pre natal stack for example helps with breast milk production, maintaining a healthy immune system & reduced fatigue. 
The 7 Ingredients For A Personalised Vitamins Stack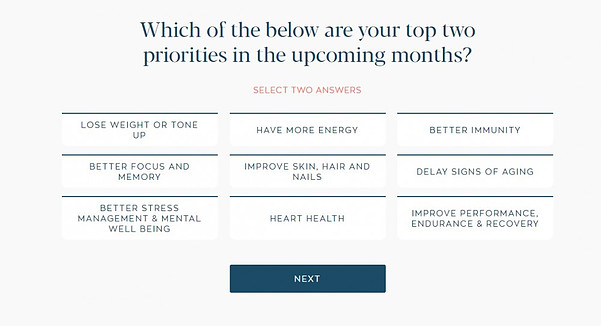 So for me the personalised vitamins stack is where they are truly unique in the market. I very recently received tried one out for myself and I was very impressed. So the first step you go through is answering series of questions about your health, such as your age, if you have any existing conditions. If you follow any specific diets, how many hours you sleep per night, how much alcohol you drink per & what your overarching fitness & health goals are. There are 14 questions in total & it takes a couple of minutes to complete.
Once you've completed this, you are presented with the stack that they recommend based on your answers. So you are presented with the 7 suggested ingredients based on your answers, at this point you can swap out ingredients should you wish.
I personally swapped two of my ingredients out, as I know that I specifically wanted Silica & Careflow™ Mango Powder in mine. So if you aren't sure what areas you should realistically be supplementing this process is perfect for you! If you're a bit more like myself & perhaps know everything that you like as part of your personalised vitamins stack, you can skip the questionnaire altogether and just pick your 7 ingredients from the choice of 28. It is this flexibility that I was also extremely impressed with! 
The Ingredients
As I mentioned earlier in this Nourished review, you can select 7 ingredients out of 28 for your personalised vitamins stack. A number of the ingredients are unique to Nourished vitamins. The technology, software and vegan encapsulation formula used by Nourished vitamins is their own IP trademarked to them. The ingredients that you can pick from are as follows: 
Maca Powder – Boosts energy levels, alleviates symptoms of menopause, increases libido, enhances memory & brain functionality.
Ashwagandha Extract – Reduces cortisol and stress, powerful anti-inflammatory, enhances memory & cognitive function, increases concentration.
Careflow™ Mango Powder – Helps improve blood flow & circulatory health, has been shown to help to lower blood pressure, supports improved glucose metabolism, powerful anti-inflammatory and antioxidant agent.
LactoSpore® Probiotic – Fortifies immune system function, improves gut health & digestion, enhances absorption of nutrients, fights inflammation around the body. 
Ginseng – Increases energy, is a powerful anti-inflammatory and anti-oxidant, helps to reduce inflammation & improves cognitive function
Beta Glucan – Positively stimulates your immune system, maintains a healthy gut microbiome, helps reduce cholesterol levels, reduce insulin sensitivity
Silica – Helps natural creation and maintenance of collagen, strengthen joints, bones and teeth, fortifies thinning hair, brittle nails and dry skin, aids with stomach and digestive disorders.
Vitamin A – Helps defend against illness and infection, improves vision in dim light, prevents age-related eyesight degradation, encourages healthy skin cell production. 
White Kidney Bean Extract – Aids weight maintenance, helps suppress appetite & reduce cravings, acts as a natural carbohydrate blocker, prevents the digestion of starches.
Tart Cherry – Rich in antioxidants, improve endurance and athletic performance, improve cognitive brain function prevents exercise-induced muscle damage.
Vegan Vita-algae D3™ – Helps to maintain healthy bones, aids mood regulation, helps to support the brain, immune and nervous systems, sourced from algae. 
Vitamin B12 – Increase energy levels, helps regulate moods and reduce stress, essential for vegan diets, supports digestion.
Nourished Greens™ – Detox your body with this unique blend. It's great for skin hair and nails, improving your immune system & boosting energy levels. 
Vitamin C – Helps maintain healthy bones, teeth and cartilage, supports the immune system, helps with iron absorption, supports eye and cardiovascular health.
Iron – Deficiencies can cause fatigue & loss of cognitive function, essential for nervous system health, improves energy levels, aids better athletic performance.
K2 Vital Delta™ – Helps prevent blood clotting and heart disease, supports bone metabolism and dental health. New studies show links to aiding the recovery of liver cancer patients. 
Milk Thistle Extract – Powerful Detoxifier, aids brain functionality, antioxidant, antiviral and anti-inflammatory. Helps with the recovery of liver damage caused by alcohol.
Resveratrol – Powerful anti aging antioxidant, increases the levels of 'good' cholesterol in the blood, has been shown in studies to reduce high blood pressure, protects cells from damage and free radicals.
CoQ10 – Helps deliver energy to your cells, shown to help improve heart health and blood sugar regulation, helps lower blood pressure and is linked to reduction the frequency of migraines.
Zinc- Necessary for a healthy immune system, decreases inflammation, helps process carbohydrate, fat and protein in food, increases the speed of healing muscles and wounds.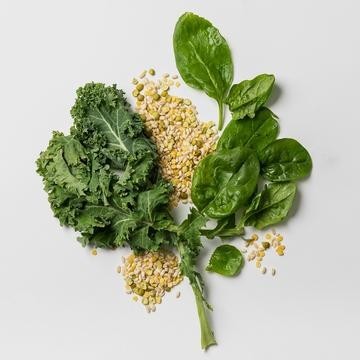 HydroCurc™ & Black Pepper Extract – Highly effective anti-inflammatory properties, improves exercise recovery, improves joint health and linked with positive mood & overall well-being.
Ginger Extract – Commonly used to reduce nausea, migraines and inflammation, helps reduce muscle pain and soreness, may help reduce menstrual pain and has powerful anti-inflammatory and antioxidant effects.
Selenium – A powerful antioxidant, important for healthy functioning of the thyroid, has been shown in some studies to slow premature ageing of skin cells, helps reduce oxidative stress in cells.
Lycopene – Strong antioxidant properties, may help improve cholesterol levels, aids the bodies natural protection against sun damage, has beneficial effects on the eyes, brain and bones.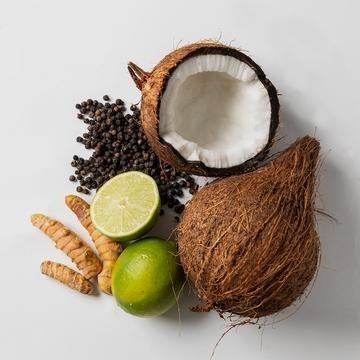 Cordyceps – Helps to improve stamina & athletic performance, may help increase testosterone production, Aids with reduction of inflammation, supports liver health.
Vitamin E – Powerful antioxidant that help to protect cells, defend the skin against ageing, inflammation & damage from the sun. Great for hair and scalp health & strengthens the immune system.
Beetroot – Full of antioxidants, calcium, iron, potassium, folate and manganese. A naturally rich source of nitrates & antioxidants. Shown to boost endurance and is great for stamina and recovery from exercise.
Folic Acid – An essential dietary supplement for expectant and pregnant women, reduces the risk of neural defects in new-born babies, helps the body produce healthy red blood cells, helps maintain a healthy immune system and reduce fatigue.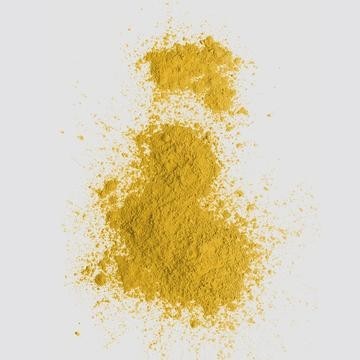 Swap Multiple Supplements For One Personalised Vitamin
The beauty of having all these different ingredients to pick from is if you already take supplements, chance is they are also available from Nourished vitamins, so you can reduce the number of supplements you take to one. 
Save Money
You can also reduce the costs, as someone who buys multiple supplements, I've been able to save at least £15 this month purchasing the Nourished personalised vitamin stack. As supposed to purchasing each ingredient individually. Then when you bear in mind you can get your first months supply for £15, the savings are quite considerable. 
You Can Target Specific & Multiple Areas Of Health
If you've got certain areas of your health that you want to target, there are likely at least a few different ingredients that will be appropriate. Pretty much any reason you may want to supplement your diet, The Nourished personalised vitamins stack will have you covered. 
As you know I'm all about ways to increase testosterone production. I'm happy to say that Nourished vitamins offer multiple ingredient options that aid with testosterone production. What I will be doing is putting together an article looking at the different options you can pick from Nourished vitamins. To help specifically with testosterone production, so keep an eye out for that!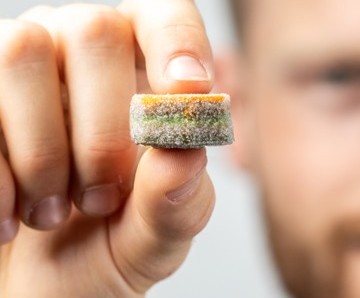 Their Personalised Vitamins Are Under 50 Calories
Each supplement comes in at under 50 calories. This is great for those of you who are fasting, as 50 calories is recognised at the point where your body releases insulin and breaks your fast. So you can take the supplement while fasting, safe in the knowledge that it won't break it!
Their Personalised Vitamins Taste Good, Are Chewable, 0 Sugar & Vegan
A massive plus of this supplement is that tastes good & is chewable, it reminds me a bit of a fruit pastille! Despite the sweet taste, it is created with 0 sugar, and all of their personalised vitamins & pre made blends are 100% plant based!
No Plastic Packaging Used
The packaging (a personalised box) that the supplements arrive in, is all cardboard & completely recyclable. Each individual supplement is wrapped a self decomposing material. This is great on two fronts, the first is the most obvious in that it's great for the environment. The second is that plastics contain chemicals that disrupt your endocrine system. 
Endocrine disruption is where your hormone production is negatively impacted, this can lead to a number of health issues including respiratory issues & is even linked to cancers! Again for those of you specifically interested in trying to boost testosterone. The absence of endocrine disrupting chemicals, means that T levels aren't being lowered, which is still a negative of most supplement brands! 
Personalised Vitamins Box
When your parcel arrives you get a very smart box, it's addressed to you, with an overview of the different ingredients in your stack and the health benefits that they bring. You also get an overview of the nutrition content per supplement. The individual wrapper is even addressed to you with your name on it. So if you have multiple people ordering, you don't need to worry about getting each others supplements mixed up!
Nourished Review Final Thoughts
In my opinion for those of you who take multiple supplements, Nourished vitamins is a far better option. Not only are you reducing the amount of supplements you have to take per day; but you're likely saving on cost & saving the environment at the same time. If you know you need to supplement your health but aren't sure what ingredients or even areas you need to specifically target, that is where the questionnaire helps, it will literally produce your personalised vitamins stack. 
For those of you who know the areas of your health you want to supplement, such as reducing stress levels, increasing energy, improving your immune system, pre natal assistance, Nourished have you covered as well. In short, whatever your supplemental needs, its likely that Nourished will have something for you! I hope you have found this Nourished review useful & have an understanding of the benefits of their personalised vitamins. Any questions, just drop me a comment below and I'll get back to you!